No matter how you slice it, watermelon is a delicious and refreshing fruit. Enjoy it by itself or use it in some of our favorite watermelon-based dishes!  
What sets watermelon apart?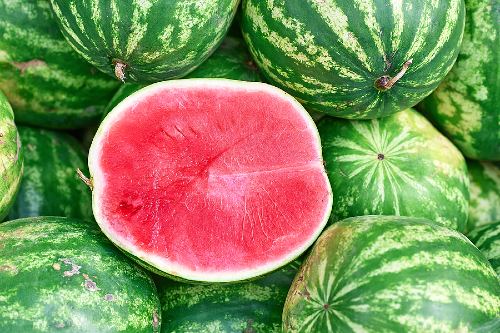 Looking for ways to stay hydrated?
Watermelon is 92% water, so it is a great thirst quencher when you want something besides water. [4] Or maybe you do want water but you want to add a little flavor? Watermelon pairs well with lemon or lime juice. You can also use fresh herbs like mint or basil to bring new levels of flavor to your water. Give your watermelon-infused water an added twist by using your favorite seltzer water instead!  
For other creative ways to flavor your water, check out our 4 Fruit Infused Water recipes. We also love this simple, 2-ingredient recipe for Watermelon Agua Fresca, a fruit-based drink that is popular in Mexico and other Latin American countries. No blender needed!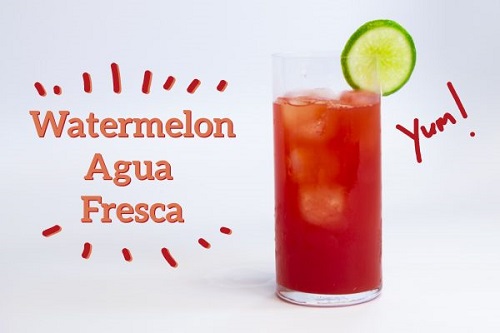 Interested in other ways to enjoy this summer fruit? Here are some of our favorites!
Sliced Watermelon with Cinnamon Dip
Nothing beats a classic slice of watermelon in the summer. Pair your slice with our delicious cinnamon dip to take this treat to the next level. 
Watermelon Salsa
UGA Cooperative Extension has a great watermelon salsa recipe for you to try: 
Ingredients 
2 cups watermelon

 

1 cup cucumber, peeled, seeded and chopped

 

1/4 cup onion, red or white, chopped

 

2 tablespoons cilantro or mint, fresh, chopped (optional)

 

1 jalapeño, seeded and finely chopped, or hot sauce to taste 1/4 cup lime juice or lemon juice

 

1 tablespoon sugar, white or brown

 
Directions 
In a medium-size bowl, stir together all ingredients. Taste and season with more lemon or lime juice, sugar if needed. Cover and chill for at least 30 minutes. Serve with grilled or broiled fish or chicken. 
Find the nutrition facts label for the recipe here. 
Watermelon Salad
Add cubed watermelon on top of your favorite summer salad for a refreshing twist. Tip: watermelon goes great with a balsamic vinaigrette dressing! 
Watermelon Pizza
This is a fun way to prepare watermelon with your kids. Start by cutting a thick slice off of the watermelon's side, about 2-3 inches thick. You should have a circle of watermelon that will serve as the pizza "crust." 
Next, spread vanilla or coconut flavored yogurt across the red part of the watermelon to serve as your "sauce." Then, add whatever toppings you like! Try berries, sliced strawberries, nuts, seeds, mint leaves, coconut flakes, or chocolate chips.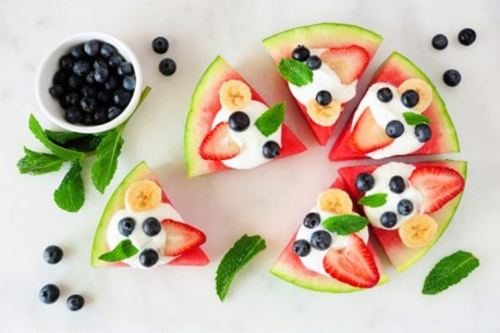 Are you a Georgia resident?
Watermelon is Georgia's #1 produce crop. [5] In fact, the Watermelon Days Festival held in Cordele, GA is the oldest festival in the state! Activities are planned each year for the month of June to celebrate the fruit and its farmers and buyers. For more information on the festival and how you can join in on the fun, check out this web page.  
Since Georgia is home to the "Watermelon Capital of the World," there are many local growers where you can purchase a Georgia-grown watermelon. [4] Use this link to find a farmer or seller near you!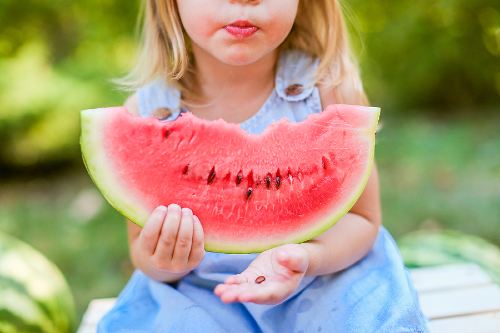 Written by Taylor Newman, Ph.D., RDN, LD, and Darci Bell, RDN, LD | Reviewed by Leslie Davis, MS, RD, LD, CDCES, and the Nutrition Education Team   
Posted: July 5, 2021 
Be Creative
Drink Water
Focus on Health
How to Cook Better
Invite Your Kids
Plan Ahead
Save Money
Shop Smarter
Store Food
Uncategorized